Mountain Goat Hunts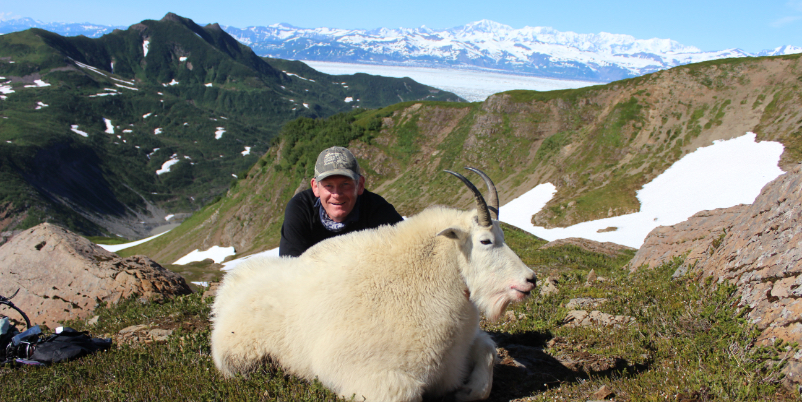 (Oreamnos Americanus-Latin Name)  Cordova Mt. Goat population is one of the healthiest in the state of Alaska.  With some of our horn genetics being one of the best in Alaska.  Many of our clients receiving top awards each year during the APHA/SCI program for top scoring Mt. Goat trophies.  In Cordova, our goals have been to work with local area biologist, in harvesting selected areas for trophies by a permit system, with intent not to over harvest and focus on Billy harvest only.  We strive to harvest Billie's 8 1/2 inches or better. Our average has been 9 inches or better in recent years, with a few in the 11 inches class.  We have 2 classes of Billie's in our area, normally Billie's weighting in 285 to 325 pounds and then we have "Buffalo Billie's" weighing in at nearly 400 pounds, a bigger genetics Mt. Goat. 
All Mt. Goat hunts are conducted 1X1(one guide, one client) to ensure your ultimate success, with many cases, a packer is added for those extended missions. Depending on where you are hunting Mt. Goat in the Cordova area, both client and guide are transported by the use of small aircraft the day before your hunt begins. Each Mt. Goat spike camp are portable and removable to assure the best possible area to hunt. Each spike camp tent are 8'X8' and are equipped with cots and heaters for your comfort. Mt. Goat country can be in a variety of areas, from 5000 foot mountain tops to 1000 mountain ridges along the coastal areas of the North gulf coast. With the use of our small aircraft, we are able to access areas where mountain goats have never seen a human before and can normally find a hunting area to fit your physical needs.
Once your trophy Mt. Goat is taken, it is then tagged, skinned peeled, quartered and packed out to the extraction point. You are welcome to take your Mt. Goat meat back with you, and I can direct you to a local butcher in Cordova, that can process the meat for you. If you choose not to take your Mt. Goat meat back with you, the meat will be donated to a local elders or local charity in Cordova, never wasted. Once Mt. Goat hide and horns are back at the lodge, hide is fleshed, ears, lips, nose, tail are turned and hooves knuckles are out, it is then salted. Trophies are normally shipped from lodge to my expeditor in Anchorage, at the end of October.